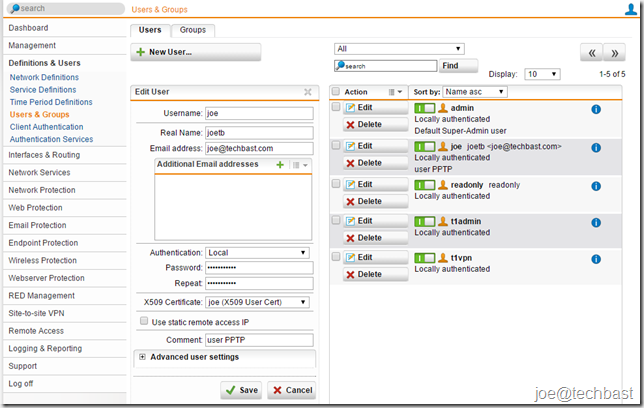 Link to video:
A. Configuring UTM
Defining a user account

Open Definitions & Users > Users & Groups > Users
Click "New User" button
Make the following setting:
Click "Save"

Configuring PPTP settings

Open Remote Access > PPTP > Global tab
Enable PPTP

Make the following settings:

Authentication via: Select the authentication method (local or Radius method)
Users and groups: When you using local authentication, please select the users or groups that should be able to use PPTP remote access.
Assign IP addresses by:

IP address pool: default IP address 10.242.1.x/24, Network is called VPN Pool (PPTP).
DHCP server (DHCP server Via interface)

Click Apply to save your settings

Configuring advanced PPTP settings

Open Remote Access > PPTP > Advanced tab
Set the encryptions strength: select the encryption strength 40-bit or 128-bit

Note: You should always set encryption to Strong (128-bit) except when your network includes endpoints that cannot support this. Both sides of the connection must use the same encryption strength.

Defining Firewall Rules

Open Network Protection > Firewall > Rules tab
Click New Rule button

Make the following settings:

Sources: Add the remote host or user
Services: Add the allowed services
Destinations: Add the allowed networks
Action: Select Allow

Click Save
Enable the rule: clicking the status icon => status icon turns green

Masquerading Rules

Open Network Protection > NAT > Masquerading tab
Click New Masquerading Rule button

Make the following settings:

Network: Select network of the remote endpoint.
Interface: Select interface.
Use address: If the interface you selected has more than one IP address assigned, you can define here which IP address is to be used for masquerading

Click Save
Enable rule
Optionally, activate the proxies
B. Configuring  remote CLIENT
Start your browser and open the User Portal => Log in to the User Portal => go to Remotes Access lab => view information PPTP.
Configuring Windows Client

Click Start => Control Panel
In the Control Panel, click Network and Internet => Network and Sharing Center => Set up a new connection or network

Define the dial-up Internet connection

Click Next
Enter the hostname or the IP address of the gateway => Allow other people to use this connection


Right-click the new connection and select Properties => Security => make information same picture follow:

click OK
Open Network => enter username and password => Connected

Done, Thanks you!