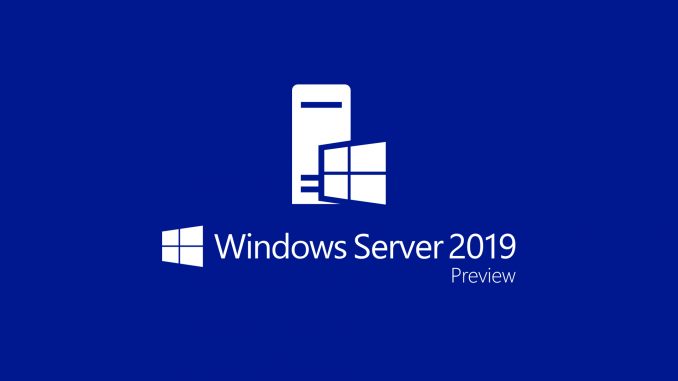 Overview
Windows Server 2019 preview adds features for super convergence, management, security, containers, and more. Because Microsoft has moved to gradually upgrade Windows Server, many of the features available in Windows Server 2019 have been used on enterprise networks and these are its six best features.
Enterprise-grade hyperconverged infrastructure (HCI)
With the release of Windows Server 2019, Microsoft rolls up three years of updates for its HCI platform. That's because the gradual upgrade schedule Microsoft now uses includes what it calls Semi-Annual Channel releases – incremental upgrades as they become available. Then every couple of years it creates a major release called the Long-Term Servicing Channel (LTSC) version that includes the upgrades from the preceding Semi-Annual Channel releases.
The LTSC Windows Server 2019 is due out this fall, and is now available to members of Microsoft's Insider program.
While the fundamental components of HCI (compute, storage and networking) have been improved with the Semi-Annual Channel releases, for organizations building datacenters and high-scale software defined platforms, Windows Server 2019 is a significant release for the software-defined datacenter.
With the latest release, HCI is provided on top of a set of components that are bundled in with the server license. This means a backbone of servers running HyperV to enable dynamic increase or decrease of capacity for workloads without downtime. (For more on Microsoft HCI go here.)
User interface (GUI) for Windows Server 2019
A surprise for many businesses that started deploying the Semi-Annual Channel version of Windows Server 2016 is the lack of GUI. The Semi-Annual Channel release only supports the GUI-less configuration of ServerCore (and Nano). With Windows Server 2019's LTSC release, IT professionals will once again have Windows Server's graphical interface in addition to the GUI-less releases of Nano and ServerCore.
Tool to manage Project Honolulu server
With the release of Windows Server 2019, Microsoft will officially release a tool to manage their Project Honolulu server. Project Honolulu is a central console that allows IT professionals to easily manage Windows 2019, 2016 and 2012R2 servers with interfaces and no interfaces in their environment.
The first users found in this management tool the simplicity it brings by offering common tasks such as performance monitoring (PerfMon), server configuration, installation tasks and manage Windows Services running on the server system. This makes it easy for administrators to manage servers.
Improvements in security
Microsoft has continued to offer integrated security functions, helping organizations address their security management model. Windows Server 2019 includes the Windows Defender Advanced Threat Protection (ATP) that evaluates common vectors for security breaches, automatic blocking and warning of potentially dangerous attacks. Windows 10 users have received many features of Windows Defender ATP in the past few months. Windows Defender ATP on Windows Server 2019 allows them to take advantage of data storage, network transmission and integrity security components to prevent intrusion on Windows Server 2019 systems.
Smaller, more efficient containers
Organizations are quickly finding ways to reduce the cost of IT operations and eliminate more cumbersome servers with more thin and efficient containers. Windows Insiders have benefited from using this container by achieving a higher computational density to improve overall application performance at no extra cost in hardware server systems or expanding capacity hardware.
Windows Server 2019 has smaller, more compact ServerCore images, helping to cut virtual machine costs by 50-80%. When an organization can receive the same (or multiple) functions in a significantly smaller image, that organization can reduce costs and improve efficiency in IT investment.
Windows subsystem on Linux
A decade ago, it was rarely said that Microsoft and Linux had the same basic services, but this changed. Windows Server 2016 has opened up an opportunity for Linux instances, supporting it as a virtual machine and a new release of Windows Server 2019 makes great progress by including a fully optimized subsystem of Linux system on Windows Server.
The Windows Subsystem for Linux extends basic virtual machine operation of Linux systems on Windows Server, and provides a deeper layer of integration for networking, native filesystem storage and security controls. It can enable encrypted Linux virtual instances. That's exactly how Microsoft provided Shielded VMs for Windows in Windows Server 2016, but now native Shielded VMs for Linux on Windows Server 2019. 
Enterprises have found the optimization of containers along with the ability to natively support Linux on Windows Server hosts can decrease costs by eliminating the need for two or three infrastructure platforms, and instead running them on Windows Server 2019. 
Because most of the "new features" in Windows Server 2019 have been included in updates over the past couple years, these features are not earth-shattering surprises.  However, it also means that the features in Windows Server 2019 that were part of Windows Server 2016 Semi-Annual Channel releases have been tried, tested, updated and proven already, so that when Windows Server 2019 ships, organizations don't have to wait six to 12 months for a service pack of bug fixes.
This is a significant change that is helping organizations plan their adoption of Windows Server 2019 sooner than orgs may have adopted a major release platform in the past, and with significant improvements for enterprise datacenters in gaining the benefits of Windows Server 2019 to meet security, scalability, and optimized data center requirements so badly needed in today's fast-paced environments.