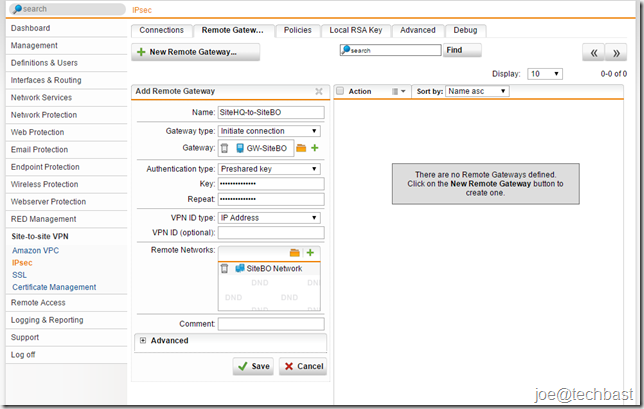 STEP 1: SETUP IPsec VPN AT THE HEADQUATER OFFICE
The first, you must define Remote Gateways for site-to-site VPN tunnels. Go on the Site-to-site VPN > IPsec> Remote Gateways tab.
Click New Remote Gateway button to create new gateway.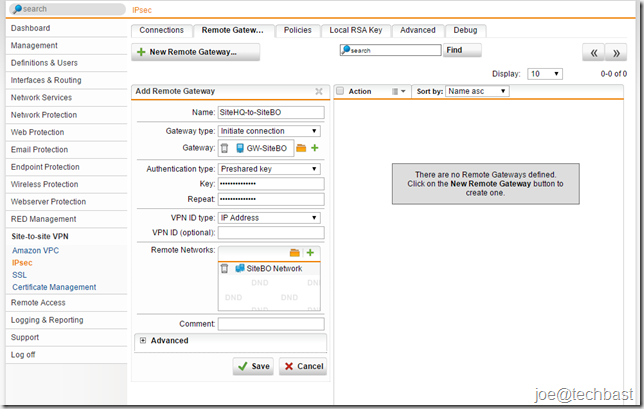 Make the following settings:

Name: Descriptive name of remote gateway
Gateway type: select the type of gateway mode:

Initiate Connection: Select if the remote endpoint has a static IP address so that a connection to the remote gateway can be initiated by the gateway.
Respond Only: Select if the IP address of the remote endpoint is unknown or cannot be resolved through DynDNS. The gateway is not able to initiate a connection to the remote gateway but waits for incoming connections to which it only needs to respond.

Gateway (if selected initial connection): you must create gateway of site branch office.

Authentication type: can select such as

Preshared key: Authentication with Preshared Keys (PSK)
RSA key: Authentication using RSA keys
Local X.509 certificate
Remote X.509 certificate

VPN ID type: Depending on the authentication type you must select VPN ID type and VPN Identifier. you can select among the following VPN ID types:

IP address
Hostname
Email address
Distinguished name: only when you selected local X.509 Certificate authentication.
Any: default when you selected Respond only gateway type.

Remote Network: add network need to remote of Branch Office site.

Make advance setting if necessary
Click "Save"
2. To create an IPsec Connection, proceed as follows:
On the Site-to-site VPN > IPsec> Connections tab, you click button "New IPsec Connection" to create new connection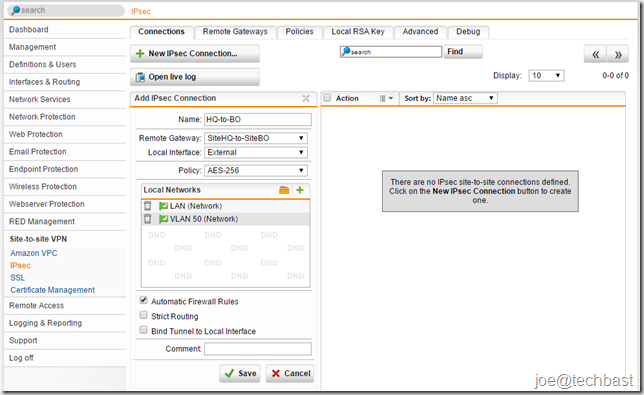 Make the following settings:

name: Descriptive name for IPsec connection
Remote Gateway: select  remote gateway created above.
Local interface: select interface using connect VPN IPsec.
Policy: You can define new policy at the Site-to-site VPN > IPsec> Policies tab. Or use default policy such as:

Local Network: select network local of Head Quarter site.
Click "Save".
3. When you configure finished you can see status IPsec at the site-to-site VPN

STEP 2: SETUP IPsec VPN AT THE BRANCH OFFICE
Configuring same as the Head Quarter Office.
Configuring Remote gateway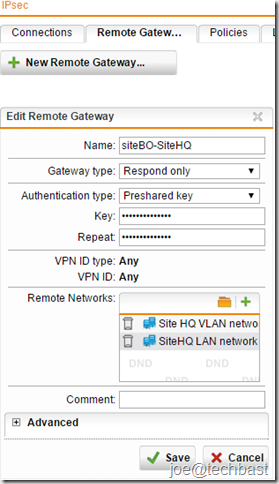 2.  Configuring IPsec connection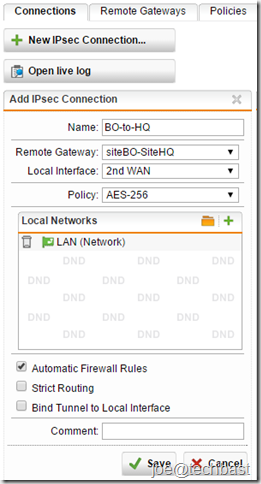 Note: select policy same as policy of Head Quarter Office.
3.  Views status Site-to-site VPN IPsec when configuration finished:
Views live-log see proceed connection


Done! I hope this guide can helps everyone. Thanks.