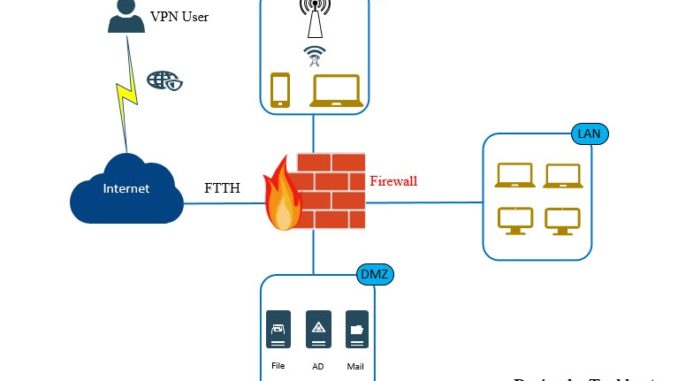 Overview
This article will provide us with a holistic view of a network model that uses a firewall and gives detailed information about its features through Visio drawings.
Diagram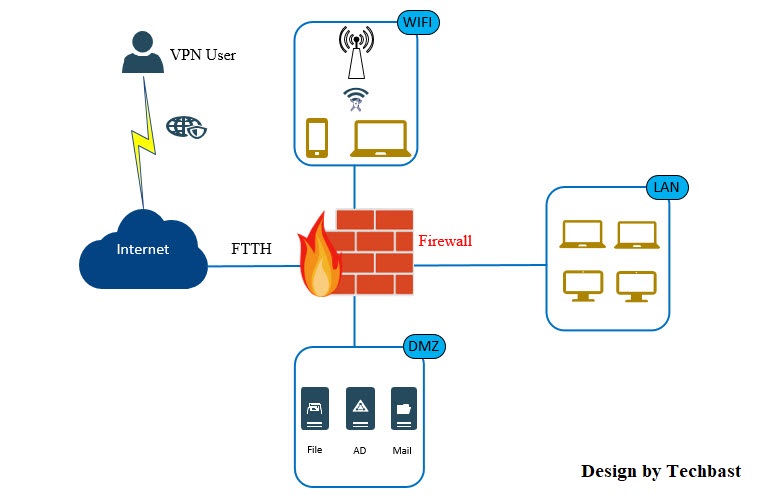 Description
With the above network model we will have a firewall device standing between the internal network and the external Internet connection. –
Firewalls include 5 zones are DMZ, LAN, WAN, Wifi, VPN to help us easily divide the area to manage the terminal equipment as well as wifi and vpn connections.
Firewalls will help us prevent threats from outside the internet from entering our system such as: + Anti-IPS attack.
+ Anti-denial of service attacks DOS and DDOS.
+ Detecting and preventing data encryption viruses, spyware, key lock ….
In addition to the features to prevent threats from the Internet, with firewalls we can easily control the traffic of internal users with features such as:
+ Web Filter is used to control users' web access.
+ Application Control is used to control application access.
+ Create policies to control the timing of internet access or control of necessary services.
The firewall can also have a number calculated as Router:
+ Perform load balancing when the system has multiple WANs.
+ Implement IPsec Site-to-Site VPN connections, Client-to-Site, SSL VPN Remote, GRE Tunnel …
Link download all of them
This diagram is drawn with the default icon set of the visio and System_and_Security_Stencil set.